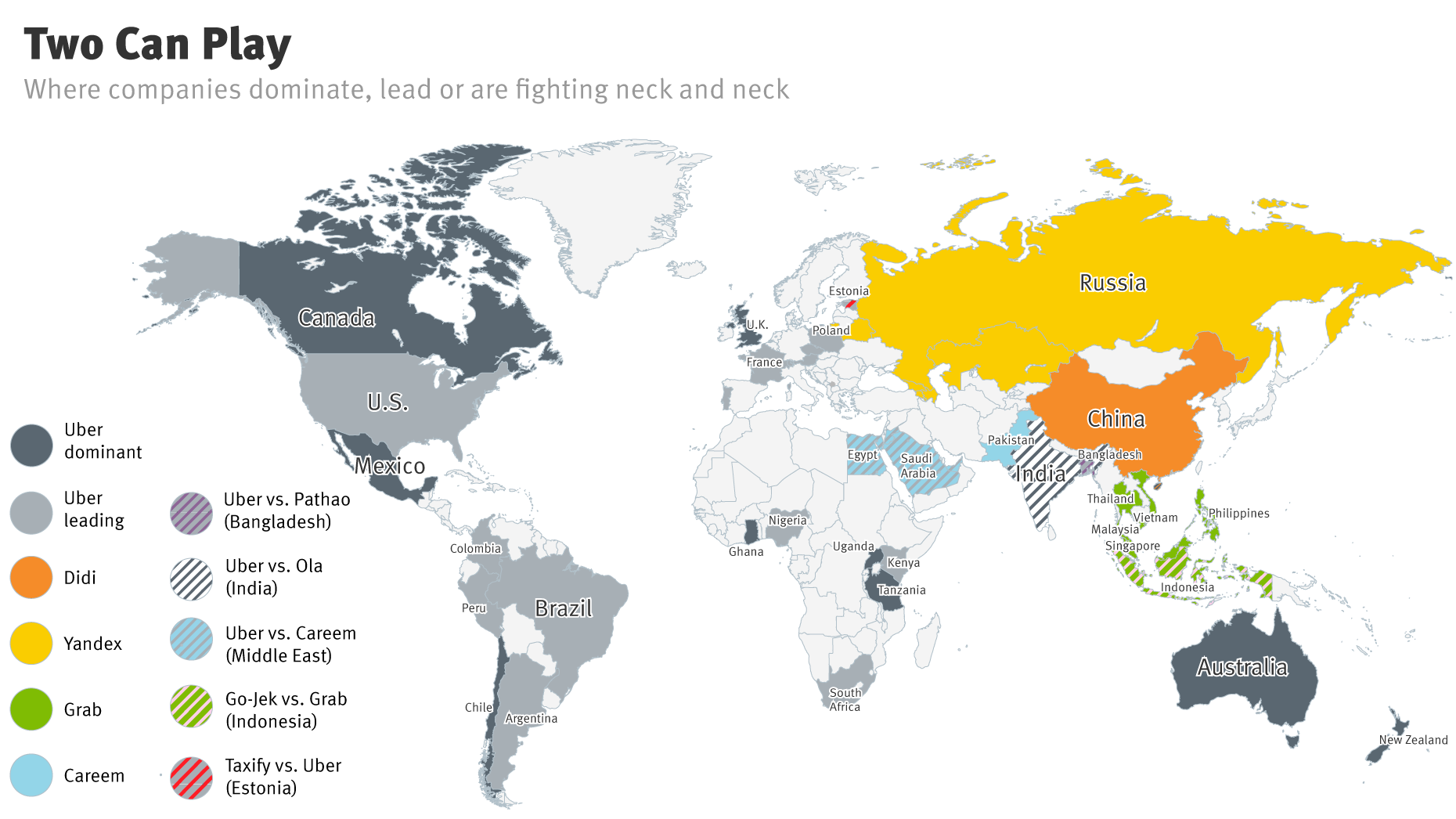 By: Amir Efrati and Mike Sullivan
Uber became the giant of ride hailing in part by capturing markets around the world. But now Didi Chuxing of China is challenging that dominance, pumping money into a variety of Uber rivals or directly entering markets ranging from Brazil to sub-Saharan Africa.
The Information put together a graphic mapping the countries in which Uber and Didi operate, where Uber has substantial equity stakes in the local leader, and where firms that took Didi money are fighting Uber. It shows Uber maintaining its supremacy in areas like Latin America but losing near-monopoly status in some parts of that region as well as in Africa and Australia. Using previously undisclosed internal data, the map also reflects the steep drop Uber has faced in the Middle East over the past year. (To see other companies that have substantial market share, toggle between the two views, and scroll down to see how much revenue Uber generates in some key cities.)
The markets under threat, but it will have to spend more money to do so. That could make it harder for Uber to pare its losses ahead of its IPO, planned by the end of 2019. Uber may decide to retreat in some countries where its prospects for success look uncertain, though Uber CEO Dara Khosrowshahi has been adamant that that won't happen.
The eventual IPO "means Uber is under pressure to focus on profitability, which is an opportunity for…us to solidify and grow our positions," said Markus Villig, CEO of Taxify, a Didi-backed ride-hailing firm that operates in Eastern and Central Europe as well as in sub-Saharan Africa and Australia.
An Uber spokesman rejected that idea, saying the company is spending more to maintain or gain market share in its remaining territories after recently withdrawing from Southeast Asia.
The rivalry between Didi and Uber first became evident in Brazil, where Didi took a substantial minority stake in Brazilian taxi-hailing incumbent 99 a year ago and then acquired it last month, marking the first time Didi has operated outside of China and Hong Kong. In Mexico, where Uber has a virtual monopoly, Didi is now setting up operations to try to change that. It's unclear how much more appetite Didi will have for overseas expansion in the short term, given some of its recent growth issues and intensifying competition in its home market.
Middle East Battle
One of the next big battlegrounds is the Middle East—from Egypt to Pakistan— where Uber is battling a Didi-backed, Dubai-based rival, Careem. Uber's internal numbers showed that the company's market share in terms of revenue fell to around 50% from 69% last year. It lost share in the biggest market by revenue, Saudi Arabia, according to a person familiar with the data. Still, the Middle East ride-hailing industry is relatively small, generating less than $1.5 billion in gross revenue last year between Uber and Careem, according to executives involved in the industry.
An Uber source said the company's share in the region has been growing so far this year, at Careem's expense. Careem disputes this, but neither firm will share revenue data about their operations in the region, which is Uber's second-smallest by revenue after sub-Saharan Africa. (Careem also won't disclose how much money it received from Didi, though it said Didi is sharing "leading edge AI capabilities, insight and expertise.")
Another battleground is India, where Uber is fighting Ola. Uber likely generated more than $1 billion in gross revenue from India last year, based on past financials.
Ola is ramping up pressure on Uber by pushing into Australia, a small but high-revenue-per-user market that Uber dominates.
Uber already has exited some markets by selling to local rivals. It sold to Grab in Southeast Asia earlier this year; to Yandex in Russia last year; and to Didi in China in 2016. After the first two sales, Uber executives said they would be able to spend more money in the company's remaining markets in order to prevent another surrender to a rival. Uber ended up yielding more territories anyway.
Ride-hailing is an especially interconnected industry. From the sale of its China operations, Uber owns a roughly 15% stake in Didi, worth more than $7 billion on paper, and Didi owns a small stake in Uber. However, the companies' executives have vowed to compete against each other globally. Didi and Uber also share the same outside investor, SoftBank, the Japan-based conglomerate. It owns about 15% of both Uber and Didi. SoftBank also is a major investor in Ola. With none of the firms anywhere near profitable, SoftBank is expected to support further consolidation around the world, and a reduction in the financial subsidies all ride-hailing companies use to attract new riders and drivers.
Once a ride-hailing company establishes a large lead in a market, it can be difficult to displace it for a variety of reasons, including how hard it is to pry away drivers from the leader and keep them busy enough with rides to justify the switch. Within each city, there are only so many drivers available. And in developing markets, it is hard to find drivers who own a car, which has led ride-hailing companies to strike partnerships with rental car agencies, banks who make car loans and other middlemen who can get cars on the road for the ride-hailing firms.
But while Uber may have an edge in being able to manage supply and demand and institute surge pricing during times of peak use, sometimes local players can move faster than foreign operators like Uber, especially when it comes to forms of payment. Uber has learned in the past couple of years that it is at a disadvantage versus the local company if it doesn't direct specific engineering resources to develop, for instance, digital wallets for riders to pay without cash or a credit card, as was the case in the Middle East.
Uber suffered in India for a long time because it didn't offer cash payment options there. It also has struggled in terms of accurate maps and efficiently routing drivers in areas like the Middle East, according to a former employee.
Global Size
Uber handled nearly four billion trips globally last year, netting $37 billion in gross revenue, though several billion dollars of that came from its Uber Eats hot-food delivery business. About half the company's revenue comes from the U.S., where Uber's growth ceiling has gotten lower over time. The U.K., led by London, is likely on pace to generate around $2 billion annually for Uber based on its current size, and it accounts for as much as half of Uber's Europe revenue (France is the No. 2 market). And New York is likely on pace to generate more than $2 billion in revenue, according to a former employee familiar with the markets.
Mexico City is likely on track to generate more than $1 billion annually, as are both Sao Paulo and Rio de Janeiro in Brazil, which make up the majority of Uber's revenue in South America. Russia recently was on pace to generate more than $1 billion annually. But Uber now holds a large minority stake in the market leader, Yandex.
In Africa, Uber has a firm grip on such countries as Ghana, Uganda and Tanzania, but it is Uber's smallest region by revenue, with many impediments to growth. San Francisco, by itself, is bigger than sub-Saharan Africa by revenue.
One of Didi's proxies, Taxify, has been gaining share in countries like South Africa, Kenya and Nigeria. Taxify, in which Didi holds a roughly 20% stake, is based in Estonia but also operates across Europe, sub-Saharan Africa and Australia. Mr. Villig, the Taxify CEO, says the company is on track to generate $1 billion in gross revenue this year from its operations across multiple regions. He declined to say whether Didi is expected to put more money into his company this year, but Taxify is widely viewed as a potential acquisition target by Didi, especially if Didi deems its acquisition of 99 in Brazil to be successful.